with both school and soccer.
School officially started on Wednesday (for Regan & I) and on Thursday (Ahnika & Kiana). I have to admit that I am dog tired after only three days with kids. I think that I already need a vacation (Is it summer yet?). I have to admit though that I am very happy with my new kids. They seem to be a good bunch (I will post later in the year, maybe my thoughts will have changed by then. LOL
Regan was worried about starting 4th grade at a new school, but everything seems to be going well. Cole is in her class, and I think that helped a bit. A couple of other kids Regan already knew (from soccer) are also in her class. The most familiar is a little girl named Melissa who Regan has Heelyed with in the past. She sees to like her new teacher, Mrs. Fox. Regan is still interested in Astronomy and still says that she is going to be an Astronomer who writes children's book. We haven't gone to the observatory lately, but Regan is bugging us to do so. This is the same goal she had for herself in Kindergarten (amazing that it hasn't changed yet- isn't it).
Ahnika and Kiana are happy to be back at school. Ahnika is is now in 1st grade and is with a new teachers (Ms. Genet & Mrs. Hahn). She is having a blast and I know that these two teachers, whom I love, will challange her to do her best and then some. Kiana is in Pre-K and is still with Ms. Jayasekera, who she absolutely loves. It is hard to believe that Kiana is going to be in Kindergarten next year. WOW - where did the time go? All three girls are continuing their studies in Spanish as well. Ms. Genet is actually their Spanish teacher (and has been for the past year). They love her and she has a way with them.
Ahnika is still planning on being a Vet. She says that she is going to go to UC Davis after high school. What an awesome dream to have (from experience of course). Hard to believe that this is the same child that yelled bloody murder if she saw an ant a few years ago. LOL
Kiana is still unsure of what she wants to do, but I think that books are a part of it. Who knows she still has plenty of time to figure it out.
I was soooooo very ready for the weekend- I could sleep in, do nothing all day, stay in my pajamas. RIght?--------
WRONG!-----
As if it isn't enough to start school, Soccer is officially started as well. Opening / Picture day was today. (No rest for the wicked right). We spent the day (8am-3pm) on the fields making sure that all the teams got their pictures taken and the cookie dough orders were turned in.
Tim is Refereeing (is that a word?) again and coaching two teams (the purple pumas - Kiana's U6 team, & the Purple Fairies - Ahnika's U8 Team) and YES Tim is known as the big fairy (along with his two very masculine asst. coaches who were all three dressed in lavender shirts) today. I am team mom for Kiana's team and am also the U6 Commissioner. I am having fun this year. Regan's U10 Coach is awesome so far (he has been doing this for a while). She is a Purple Panther. what are the odds that we could ever get all three in the same color again.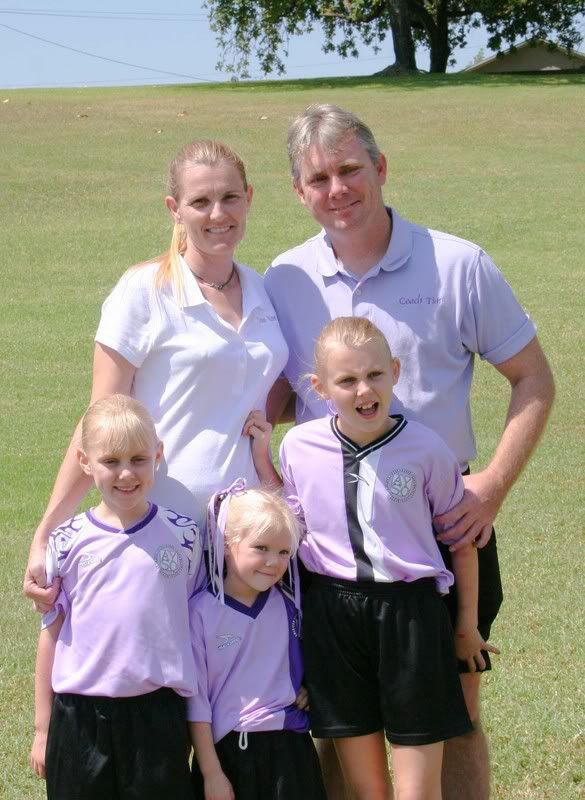 Needless to say, we were all exhausted by the end of the day. By the time we got home, we all wanted nothing better than to just be bums around the house. We played at home, I scrapped a few cards, the girls vegged in the living room (watching TV), and Tim vegged on the computer. It also carried over into Sunday when no one got up before 8am (usually we are up and going by 6:30). Today I think a nice relaxing day is in order. Maybe a walk to the park and an early dinner.
Thanks for reading. I will try to update my blog every couple of days, but at least on the weekends (when things slow down a little).